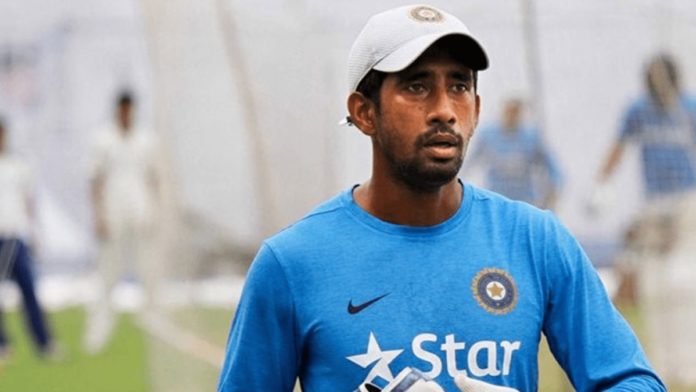 New Delhi: The Board of Control for Cricket in India (BCCI) might seek an explanation from wicketkeeper-batsman Wriddhiman Saha for breach of the central contract clause with his comments on BCCI president Sourav Ganguly, current head coach Rahul Dravid and chief selector Chetan Sharma.
Veteran India wicket-keeper batter Wriddhiman Saha has been through a lot in the past week. After being dropped from the Indian Test side for the upcoming homes Test series against Sri Lanka. By now everyone who follows regular cricket news or not knows about the same, thanks to the many headlines that have been dedicated to this and of course with it trending on social media till now.
Saha, who is in Group B with annual retention of Rs 3 crore in the annual central contract, has violated clause 6.3. According to clause 6.3 of the BCCI central contract for the players.
"Player shall not make any comments about the game, officials, incidents that happened in the game, use of technology, selection matters or any other matter related to the game which is in opinion of the BCCI is adverse to and /or not in the interest of the game, team or BCCI in any media."
After being dropped from the Test squad for the impending series against Sri Lanka at home, the 37-year-old wicketkeeper-batsman had told media about his conversation with Ganguly after the knock against New Zealand, the "retirement" suggestion from Dravid, and the conversation he had with Chetan before the squad announcement for the Tests.
"Yes, there is a possibility that BCCI could ask Wriddhiman as to how he spoke on selection matters being a centrally contracted cricketer. As far as the president is concerned, he had tried to motivate him. The board might like to know what made him go public with his dressing room conversations with coach Dravid," BCCI treasurer Arun Dhumal told PTI.
However, Arun added that the BCCI is yet to take a final call over this incident in a "few days".
"So will BCCI serve a formal show cause notice or ask him verbally about the issue? "We haven't yet decided on the matter. We are all busy but a call will be taken on a few days," he added.
After all of my contributions to Indian cricket..this is what I face from a so called "Respected" journalist! This is where the journalism has gone. pic.twitter.com/woVyq1sOZX

— Wriddhiman Saha (@Wriddhipops) February 19, 2022
Meanwhile, it has been reported that the BCCI has set up a committee to investigate the online threats the India Test specialist received from a journalist.