The year 1975, IFA Shield Final, Subhas Bhowmick in his prime crosses the ball inside the penalty area as rookie Mohun Bagan goalkeeper Bhaskar Ganguly spills it and lays it for an onrushing Shyam Thapa who slots it home to make it 2-0. The first was scored by Surajit Sengupta waltzing past two Bagan defenders, leaving them spellbound. The evening got worse for Bagan as Thapa netted again alongside Ranjit Mukherjee and Subhankar Sanyal to give East Bengal their biggest ever win (5-0) against their arch-rivals.
You ask an East Bengal fan in his 50s or 60s about the day and he will vividly describe to you all the goals with excitement. You ask a youngster about it and he too will know every detail of that encounter told to him over the years by his seniors. Such is the passion, the love the fans have for East Bengal here in the city of Kolkata.
Formation
Flashback to the year 1920, exactly 100 years back a certain Jorabagan Club was scheduled to play Mohun Bagan in the Cooch Behar Cup. However, Jorabagan's then star defender Sailesh Bose was left out of the playing XI due to undisclosed reason. This did not go well with the Vice President of Jorabagan, Suresh Chandra Chaudhuri and on August 1st he, along with a few others like Raja Manmatha Nath Chaudhuri, Ramesh Chandra Sen and Aurobinda Ghosh decided to form a club and named it 'East Bengal'.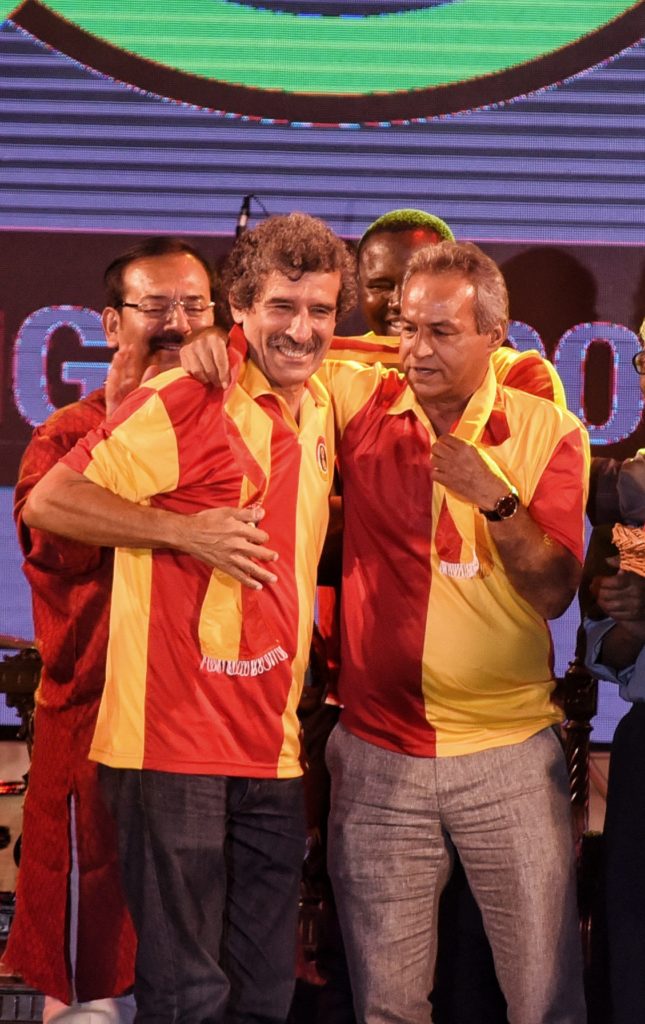 The Colour and The Crest
History has it, the jersey colour was a matter of great debate, the founders, however, noticed a red and gold shirt impressively hanging at the Whiteaway, Laidlaw & Co. department store in Chowringhee, Kolkata and decided to adopt the colours. The 'Flame' crest came much later though. In 1930, protestors thronged the East Bengal ground with hand-holding flame torches voicing their opinions against the club being not promoted to 1st Division Calcutta League amidst political unrest in the country, since then the 'Mashal' has been the club emblem.
Boro Match- The Kolkata Derby
In 1921 East Bengal first played against Mohun Bagan in the semi-finals of the Cooch Behar Cup but the game ended in a stalemate since then the rivalry has grown in stature every year. The Kolkata Derby or the 'Boro Match' once recorded 1,34,000 spectators in a game. Even FIFA keeps the massive clash as a part of it's classic derby list.
The rivalry has been a bittersweet one for East Bengal with the Red and Golds leading 122-93 to this day. Alongside the 5-0 drubbing of Bagan in 1975, the Red and Golds also fondly remember the 1997 second semifinal of the Federation Cup, where a then young and fiery Bhaichung Bhutia scored a brilliant hat-trick to down their arch-rivals 4-1. Amol Dutta the then Mohun Bagan coach who boasted of his 'diamond formation' before the game had a hard time swallowing the pill.
Describing the atmosphere before the game, Rediff had reported, 'The atmosphere grew more and more tense as the matchday approached. Tickets were sold in black, though the police did its best to dissuade fans from dealing with touts. The derby always drew unprecedented crowds whenever and wherever played, and there had been many instances of violence in the past involving players, team officials and supporters.'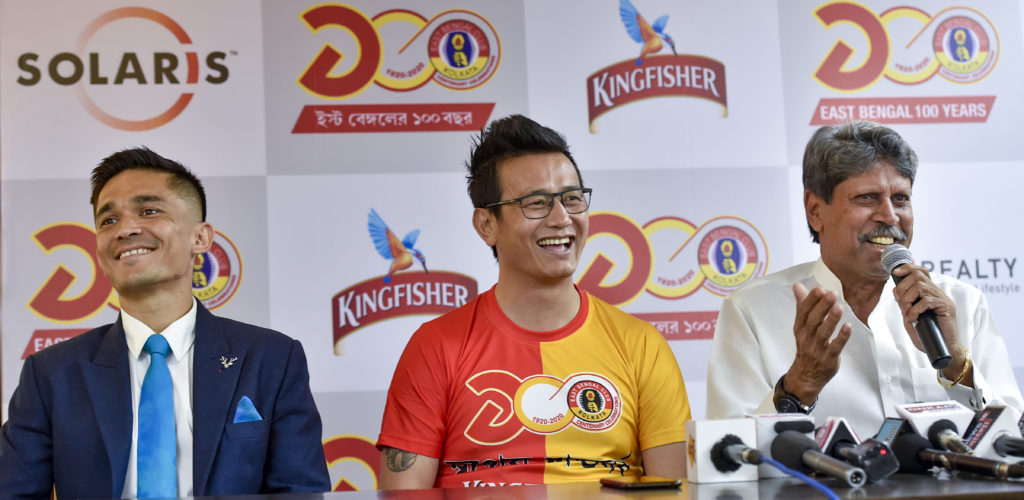 When winning becomes a habit
In 1943 East Bengal first won the coveted IFA shield trophy, from then on there has been no looking back for them. They won their first treble in 1949, followed by the Durand Cup in 1951. They made the Rovers and Durand trophy almost their own in the 60s and 70s. In 1970 they stunned everyone to lift the IFA shield beating the Juggernaut, PAS Club of Iran 1-0. Later the club won the 1973 IFA Shield by defeating Pyongyang City SC of North Korea.
The accolades and trophies continued in the years to come but notably, East Bengal once again hogged the limelight in 2003 when they defeated then BEC Tero Sasana to lift the ASEAN Club Championship an international trophy which the club treats as one of their biggest ever achievements.
In the early 2000s, they won the National Football League multiple times alongside winning the Federation Cup on a number of occasions. Major sponsors too like United Breweries Group were roped in as the team was rebranded as Kingfisher East Bengal.
It is in the very recent years that their form has suffered with only the Calcutta League to show for the Kolkata football giants. The sponsorship changed hands but then too there was little to show for. Also, speculations are rife if or not the Red and Golds will be able to compete in the Indian Super League this year.
However, for a club so richly steeped in history for 100 years, it is only time before they bounce back to win a national accolade or again lift an international trophy and compete against the best from India and abroad.
Stadiums:
Salt Lake Stadium, East Bengal Ground, Barasat Stadium, Kanchenjunga Stadium, Kalyani Stadium
Major Trophies
International
ASEAN Club Championship
Champions (1): 2003
National
National Football League
Champions (3): 2000–01, 2002–03, 2003–04
Federation Cup
Champions (8): 1978, 1980, 1985, 1996, 2007, 2009–10, 2010, 2012
Indian Super Cup
Champions (3): 1997, 2006, 2011
Calcutta Football League
Champions (record) (39):'1942, 1945, 1946, 1949, 1950, 1952, 1961, 1966, 1970, 1971, 1972, 1973, 1974, 1975, 1977, 1982, 1985, 1987, 1988, 1989, 1991, 1993, 1995, 1996, 1998, 1999, 2000, 2002, 2003, 2004, 2006, 2010, 2011, 2012–13, 2013–14, 2014–15, 2015–16, 2016–17, 2017–18
IFA Shield
Champions (record) (29): 1943, 1945, 1949, 1950, 1951, 1958, 1961, 1965, 1966, 1970, 1972, 1973, 1974, 1975, 1976, 1981, 1983, 1984, 1986, 1990, 1991, 1994, 1995, 1997, 2000, 2001, 2002, 2012, 2018
Durand Cup
Champions (record) (16): 1951, 1952, 1956, 1960, 1967, 1970, 1972,1978, 1982, 1989, 1990, 1991, 1993, 1995, 2002, 2004
Rovers Cup
Champions (10): 1949, 1962, 1967, 1969, 1972, 1973, 1975, 1980, 1990, 1994.