Kolkata: The javelin champion Neeraj Chopra who was on a short tour of the Kolkata requested for Rosogolla after a traditional Bengali meal at the East India Room in Raajkutir on Tuesday. He had bagged India's first and only athletics gold in the Olympics in Tokyo last month.
"Neeraj told us, 'I want to have Rosogolla and Mishti Doi. I love Bengali desserts and have heard about them a lot but have hardly had a chance to try them'," said Sumanta Chakrabarti, corporate chef, Raajkutir (formerly Swabhumi).
Chopra was also served Mishti Doi along with Rosogolla. Before the desserts, he was served a typical Bengali thali supper. Four appetizers were served to the "foodie," who requested more of the Sorshe Chhenar Tikka, Thakurbarir Mochar Chop, Bhetki Fish Roll, and Gandharaj Murgi Bhapa.
Neeraj Chopra in the City of Joy 💖pic.twitter.com/NBr8lwZzWu

— Avik❋🥀 (@Avik_GillStan) September 16, 2021
"He said that he was not a fan of fish but he liked the fish roll so much that he had two pieces," said the chef. Chopra also requested that the Papad and Aam Chutney be sent to his room "to eat later".
The 23-year-old went to Raajkutir's zamindari-style "Rajababu's Suite" after dinner.
In his room, he found a special chocolate dessert inspired by India's national flag, as well as a tray of desserts shaped like the medals and mementos that commemorate his greatest achievements: Gold at the Olympics, Arjuna Award (2018), Gold at the Commonwealth Games (2018), and Silver at the National Youth Championships (2013).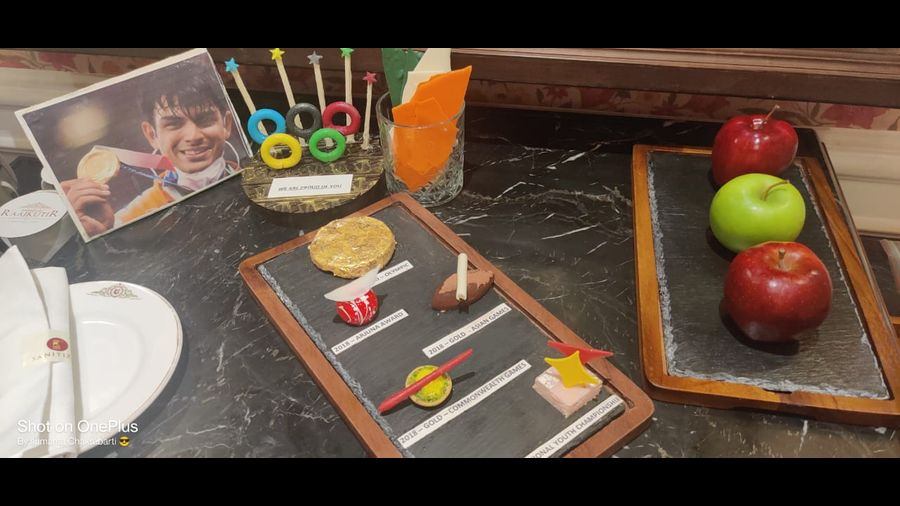 The desserts inspired by the Indian flag and Neeraj Chopra's medals that were served in the champion's suite
Chopra was honored at a ceremony in the city on Wednesday, which included Manoj Tiwari, a cricketer and Bengal minister of state for sports and young affairs, among others.
The Olympic winner was also honored by the Kolkata police at Lalbazar. He had three additional dinners at Raajkutir's heritage look-and-feel restaurant, which was inspired by the zamindari era.
Lucchi and Sada Aloo Tarkari for breakfast, along with "plenty of fruits" and watermelon juice. For breakfast, he also requested a cup of Mishti Doi!
Was he able to burn off all those calories? No! He seems to have taken a day off from training to taste the greatest Bengal cuisine. On Wednesday evening, he checked out with a box of desserts- Baked Sandes and Ros Kadam.